For over 30 years ago, I have been involved in community activism and I have helped to organize people and pass legislation.
This is from 1986, when I was the president of our high school's student environmental group, SEQ.  We were lobbying to help pass the Bottle Bill for 5-cent deposits as well as  Environmental Quality Bond Act to help clean up hazardous waste sites.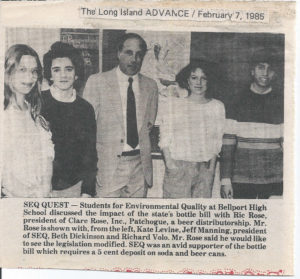 College 
In 1987, I started New York University, majoring in Film and Television production.  I received a Helena Rubinstein Foundation merit-based scholarship for my community service work.  Throughout college, I organized students; started a recycling program, was a Resident Assistant and gave safer sex workshops throughout the NYU Resident Halls.  In 1991, upon graduating with honors, I received an NYU Chancellor's Service Award for Charity.
I also had two main internships – one at a local gay and lesbian public affairs TV show ("Out in the 80s/90s") and another at the PBS show, "13 Live" (the staff later went on to produce the show with the guest host, Charlie Rose).
On "Out in 80s/90s", I coordinated gay and lesbian news stories, and shot and edited video of local demonstrations and protests.  Here is a video clip from 1990.