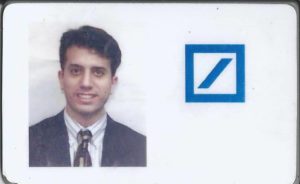 In 1993, the PBS program that I was working on was cancelled.  I was fired from waiting tables, and I need a job.
I went to a temp agency that told me to go down to 222 Broadway to Barclays Swaps & Options and fill in for the receptionist for three days.  I did.  $7.50/hour.
I never had an economics class, nor a finance class – not even a business class!  I had a Bachelors of Fine Arts degree.
However, I put on a suit every day, did what they asked me to do, and it turned into a career that lasted over twenty years.
I worked at Barclays for five years, in their derivatives back office area, eventually working in their cash reconcilement area – manually reconciling cash payments and settlements.
In 1997, at 27, I was hired by Deutsche Bank, NY to manage their derivative cash settlement area.
In 1998, I was hired by SmartStream Technologies to implement reconciliation systems for banks, and other large financial institutions that did stock trading and cash movement.  I travelled throughout the country implementing this software at various locations.
Here is a link to my LinkedIn profile for a more comprehensive list.